15 Awesome Tips For Selling Your Florida Home
Posted by Dan Larson on Sunday, July 18, 2021 at 10:03 PM
By Dan Larson / July 18, 2021
Comment
15 Awesome Tips For Selling Your Florida Home
Do you want some great advice on how to sell your Southwest Florida home? Who doesn't?
Selling your home in Florida can take some work, but just because it will take some effort it does not mean it will need to be any harder than necessary.
However, by being smart about how you use your time and energy, during the sale you can make the process smooth for you so the sale satisfies your goals and lets you realize the full potential of your home.
In this article, you will learn some of the greatest advice for selling a home. These home selling tips include pre-sale preparation for both the interior and exterior of your home.
The following tips are tried and true – ways to make selling a home a little bit easier and maybe even more profitable for you. Try a few out of them out and we're sure you'll see some benefits if you do.
So let us dive in and look at what to do before selling your home!
Selling Your Home – 15 Tips That Can Help You
1. Take care of your landscaping
Make sure the lawn is mowed, trim up your bushes and hedges, and purchase a few bags of mulch to pour in the flower beds to bring things together. In real estate sales, first impressions are extremely important as buyers will judge a home on first impressions. The first thing you should add to your checklist for getting your house ready is the exterior. One of the first things potential buyers are going to notice when they pull up to your home is the landscaping – lawn, plants, flowerbeds, etc. Now you don't have to go all out and, install a giant fountain or even hire a landscape designer. You just need to clean it up and make sure things look neat and as alive as possible.
2. Declutter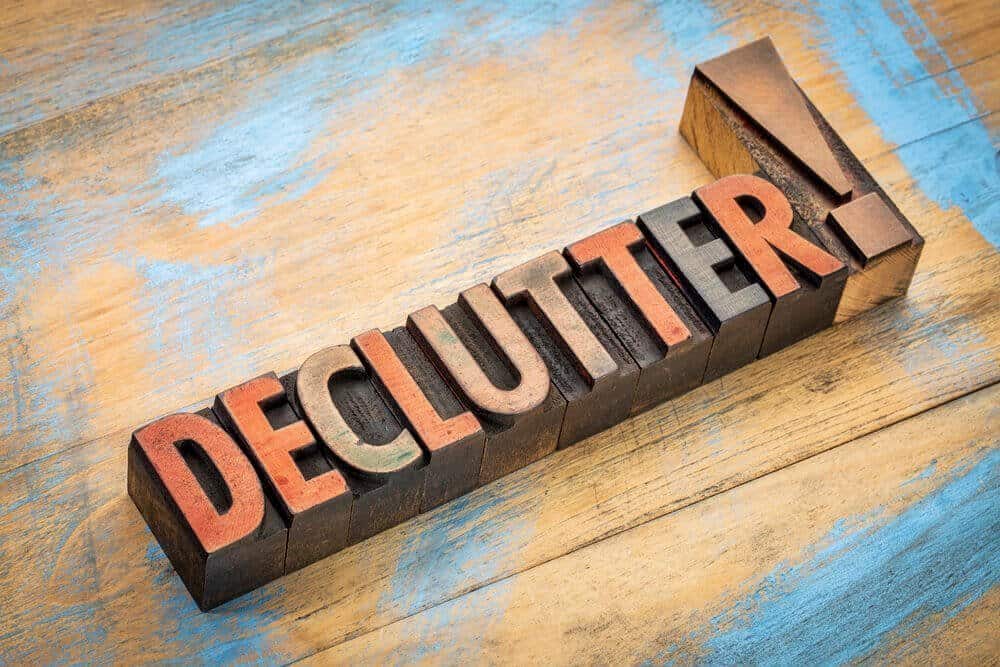 One cost-effective home selling tip we can give you is to declutter your home! You'll want to maximize the perceived space in the home. The more clutter you have, the more uncomfortable things will feel to potential buyers. So, go through everything and clear out all of your non-essential personal items.
A great way of getting your home ready to list and decluttering is having a donation pick up. There are numerous charities that will come to your house and take the stuff away you no longer want for FREE!
Even if you don't want to go through all of your stuff and sort them, you should at least put things away in places where potential buyers won't be looking – which means not stuffing your items into closets or the garage.
When a home is cluttered it can make your home feel a lot smaller than it actually is. This is not a good thing when trying to get the most out of your sale. Buyers today like bright open spaces without an abundance of someone else's personal property.
As simple as it sounds one thing that helps sell a home fast is an uncrowded, clean space. It is all about a buyer picturing themselves in your home.
3. Paint the interior if it needs it
Having dark interior colors can shrink the perception of space. Repainting your interior walls with contemporary colors and getting a little insight from a knowledgeable Real Estate agent or interior designer, it can change the whole feel of your home.
There isn't a home improvement that will give you more bang for your buck than a fresh coat of paint. From a selling standpoint, it is important to stick with neutral colors.
Remember selling your home is not about personal preferences but appealing to the masses. Stick with off-white and light creamy colors for maximum benefit. Sherwin-Williams offers some excellent interior home painting tips that are worth a look.
4. Hire A Top Real Estate Agent
If you're seeing a trend here, it's because there is one. Working with a professional real estate agent to sell your Southwest Florida home has many benefits and takes a lot of the heavy lifting off of your shoulders.
A highly skilled Real Estate Agent can often sell your home quicker and for a higher price than selling it yourself. This is one of the most valuable tips for selling your Southwest Florida home, and be sure you hire the right agent!
Even before a real estate agent starts work on selling your home, they can be a great resource in pricing it correctly. Incorrectly, pricing your home, everything else you have done will be meaningless! Overpricing your home from the start is a sure recipe for failure.
A top local real estate agent who knows the Southwest Florida real estate market like the back of their hand is worth having in your corner when selling your Southwest Florida home.
Again, keep in mind that pricing your home properly is the key to your success, and unfortunately some agents will mislead you just to get your business by overpricing your home, just to continually ask for price reductions.
Avoid this kind of agent at all costs! Nothing will prevent you from getting selling your home fast and for top dollar than hiring a real estate agent who overprices your home!
5. Put up a For Sale sign in the yard
With all the emphasis on marketing your home online – which is definitely critical, it can be easy to forget about some of the basics.
Putting that "For Sale" sign in the yard will let everyone in the neighborhood know what's going on and it also makes it easier for people to find the house. Some folks however do want to "keep their home a secret" for a bunch of reasons. This, however, is a mistake. Home sellers shouldn't underestimate the power of real estate signage. Many homes have been sold over the years just from the sign in the front yard.
This typically can happen with a person who was not thinking of purchasing a home but has always thought to themselves that if that certain home comes on the market, I would be interested in buying it, and that home could be yours!
6. Make sure your photos are exceptional
It may not seem like a big deal, but the pictures you post on your listing can make or break your sale. The reason is, is that they are the first thing anyone sees. It is extremely important to have professional photos of your home, and also this is a question you should ask potential real estate agents you interview as to whether they will be taking the photos or if a professional will be taking the photos, if the agents say they will be and they aren't skilled in photography, then you should look for another agent immediately.
Sellers will hire a real estate agent and don't bother to check on one of the most important parts of the selling process, which is how will your home that's being marketed look online? This is a very vital consideration, yet a lot of sellers underestimate its importance.
The photography of your home is a gateway to a buyer's perception of your property – good or bad! Want to see a quick example of really bad real estate pictures posted online? Please take a look and remember when buyers and other real estate agents see photos like the ones in the link, they cringe. Unfortuntelty, Real Estate agents who market homes like this are the ones who give our industry a horrible reputation!
7. Consider A Virtual Tour
The best Real Estate agents today are utilizing some form of video or virtual tours, in addition to traditional photos. Potential homebuyers like to take a tour of the home before they actually decide to visit it, which a video or virtual tour allows.
Again, having a professional here is extremely important, so make sure you either have a Real Estate agent who is skilled in video or virtual tours or a professional videographer.
Homebuyers will typically look at the photos first, and once they take a look at the video or virtual tour, it usually seals the deal, and they will be scheduling a showing to come view your home.
8. Make sure you are using all marketing channels – especially online
Old school Realtors can sometimes be slow to adopt new technology and marketing channels, so you should hire someone who has a demonstrated ability to utilize the web and social media like Facebook, Instagram, Pinterest, LinkedIn, and Twitter.
A Real Estate Agent with a website is great, but you want to make sure you use someone who has a complete understanding of how to market your home online and make it stand out.
Real Estate agents who have a handle of their online presence understand how important it is to make your home "stand out" from your competition, and again it all starts with the photography of your home.
Without great photos, your home can be all over the internet, but it won't matter because the presentation of your home will be horrible.
9. Take Advantage Of Lighting
A bright home is extremely inviting to potential buyers. Let the sun in if you can, or add some better lighting if your home is too dark.
Even buying brighter light bulbs will help. One of the things we always tell our clients is to make sure all of their curtains are drawn, and lights remain on when there is a scheduled showing.
Again the presentation of your home is critical. Small things like lighting can make a big difference with no money coming out of your pocket!
10. Consider a deep cleaning
Having a clean home is inviting to buyers, whereas if a home is dirty it can turn a potential buyer away faster than just about anything. One of the easiest ways to guarantee your home is spotless and looking its best is to hire a professional cleaner to come in and clean.
Make sure your bathrooms and kitchen are spotless. Buyers pay special attention to these areas. Also, if you have carpets make sure they are as clean as possible. If need be, consider having your carpets professionally steam cleaned. Having this done can be one of those things where spending a couple of hundred dollars can end up saving you thousands by preventing the buyer from thinking the carpets need to be replaced immediately.
Just last week, we had a client in North Port, Florida, who wanted us to list their home, and after viewing the property, it was clear that it needed a professional deep cleaning before anyone set foot inside. The seller's tenant had just moved out of the home, and the owner didn't realize what the inside condition was like.
11. Repair Items Your Real Estate Agent Recommends
Most major renovations are usually a bad investment for a seller since it's hard to get your money back in the sale. However, if your real estate agent advises that you fix a couple of things, like a bad electrical panel (e.g. Federal Pacific, Challenger or Zynsco), which are known electrical panels that are fire hazards, which most insurance companies will not insure a home with one of the above-mentioned panels installed until it is replaced which can cause issues for the person buying the home if they are purchasing the home with a mortgage. There also may be a hole in your fence, a toilet that has a leak, or stains that are visible on the ceilings, these are items that be fixed. These items may be things that may make the buyer apprehensive and back out of the contract or even possibly ask for a reduced sales price because they feel that these items may need immediate attention.
One of the things that we always stress to our sellers is that they should be prepared for when the buyer has their home inspection done. The buyer's home inspection can be the number one place where a home sale can fall apart. So, it makes sense to try and address the problems that might arise before they come up in an inspection report. If there is a problem with the home, a good home inspector will probably find it.
12. If There Are Any Odors, Take Care Of Them
Smell is a powerful sense and odors can easily turn someone off, that may have been interested in your home, and you, yourself may not even realize that there is an odor.
The best thing to do is ask someone you trust, that doesn't live in the home like your real estate agent, to let you know if there is any unpleasant smells, from pets or cooking, and make sure to address them before any showings of your home for sale.
As much as we all love our furry little friends, pet odors can kill a home sale. The reason is, is because some home buyers think they won't be able to get rid of the odor after they purchase the home. So it's best not to take a chance with any odors in your home, so make sure to get rid of the odors.
13. Make Your Kitchen Inviting
A lot of homebuyers focus on kitchens in a home, which is why you want to make sure yours is inviting.
Change counter-tops from the 80s that may need updating, and you may want to think about installing new appliances if the existing ones are in rough shape. Most real estate professionals will tell you that a home's kitchen is one of the most important rooms in the home.
Which makes complete sense since, as it is typically the place where we spend a good part of our time. So, do what you can to make your kitchen as appealing as possible.
14. Get Things Organized
Potential homebuyers that come to look at your home are going to open every door, including your closets and the home's garage.
So, it may help with the sale of your home by making sure these areas are organized. The better they appear to buyers, the easier it will be for buyers to visualize they can fit their belongings in the home.
This goes along to Tip #2 of De-cluttering. So, making sure your closets and garage are organized should be done as part of the process. Anita Clark, a Georgia Real Estate professional, has some fantastic tips on how to organize your closets when selling a home.
So, you might want to get some boxes for moving and put items that aren't a necessity in them to make your home feel more spacious.
15. Remove Your Pets For Showings
It is hard sometimes for pet owners to imagine, that some people don't like pets. As a dog or cat owner, you may not want to be friends with these people, but they could make a great offer on your home.
So, take your pets somewhere that is safe and comfortable for them, like a friend's home or a dog park. Selling a home with evidence of your pet being there, or their odors could be a turn-off to some people.
So there they are, The Larson Team's 15 Tips Awesome Tips For Selling Your Southwest Florida Home, these tips are some of the best home selling tips we can give you, to help you with having a successful home sale!
Additional Helpful Home Selling Articles
These additional top home selling tips will help you to make the right decisions when selling your home. Mistakes can and will probably happen very easily if you don't follow sound advice from a professional real estate agent.
About the author: The above Real Estate information on the 15 Awesome Tips When Selling Your Florida Home was provided by Dan Larson, a Nationally recognized leader in the real estate field. Dan can be reached via email at [email protected] or by phone at 941.993.8222. Dan's real estate team, The Larson Team with RE/MAX Anchor Realty has helped people move in and out of many Southwest Florida towns.
Are you thinking of selling your home? The Larson Team has a passion for Real Estate and loves to share their marketing expertise with potential home sellers!
The Larson Team with RE/MAX Anchor Realty services Real Estate sales in the following Southwest FL towns: Anna Maria Island, Bradenton, Longboat Key, Lido Key, Sarasota, Siesta Key, Osprey, Nokomis, Venice, Englewood, North Port, Rotonda West, Wellen Park, Port Charlotte, Punta Gorda, FL