Wellen Park: Popular Questions Answered!
Posted by Dan Larson on Sunday, August 8, 2021 at 10:50 PM
By Dan Larson / August 8, 2021
Comment

Where is Wellen Park located in Florida?
The community of Wellen Park is located along the Gulf Coast of Florida and is west of I-75. The Wellen Park community is accessible from U.S. 41/Tamiami Trail and River Road, and depending on which of the 14 communities you live in within Wellen Park, you could be within the City of North Port, Florida, or unincorporated Sarasota County, Wellen Park also shares Venice Florida's Zip Code 34293.
Where Did The Name Wellen Park Come From?
Wellen Park's name is derived from the German & Dutch word "wellen," and has a dual meaning: when translated from German it means "waves" and when translated from Dutch it means "wellness". The developers of Wellen Park felt that waves and wellness describe Wellen Park perfectly, since Wellen Park is near the beautiful, Gulf of Mexico and Myakka River, along with Downtown Wellen Park's Grand Lake.
How Big Is Wellen Park In Florida?
As previously mentioned there are 14 communities within Wellen Park. As a whole, Wellen Park covers roughly 11,000 acres, which includes about 7,000 acres of undeveloped land. When Wellen Park is fully built out, Wellen Park will have 23,000 homes and roughly more than 60,000 residents.
What Happened To The West Villages In Florida?
The West Villages was the former name of Wellen Park, however, West Villages is now a district located within Wellen Park.
What Districts & Neighborhoods Are In Wellen Park?
The Wellen Park community is a master-planned community that includes the West Villages, and two new districts, which are Downtown Wellen and Playmore. Wellen Park introduced these two new districts as a way of organizing the 14 neighborhoods that will be within Wellen Park.
What Types of Homes Are Available In Wellen
Park?
Wellen Park offers a wide variety of housing options to meet anyone's needs. The available housing options are single-family homes, villas, townhomes, and coach homes, which are condos with 2 units above and 2 units below. Housing starts from the mid-$200's and goes up from there. Soon, Wellen Park will also offer up single-family rentals, apartment rentals, and assisted living. For a current list of all the available Homes For Sale in Wellen Park, Check Out Our Wellen Park Home Search
Is Wellen Park A Retirement Community?
Wellen Park welcomes residents of all ages. At the time of this writing, Wellen Park currently doesn't have any age-qualified/55+ neighborhoods, however, they may add some in the future.
Do You Need A Real Estate Agent To Purchase A Home In Wellen Park?
If you're thinking of purchasing a new construction home in Wellen Park, you can work directly with the builder. However, there are no real advantages to working directly with the builder's sales representative. After all, who does the builder's sales representatives work for? The builder.
So, a lot of potential homeowners of new construction homes do choose to work with a local real estate agent. The reason being is the real estate agent you choose will be working for you, and have your best interest in mind, not the builders. Lastly, the real estate agent will be your eyes and ears of the progress of your home build, especially if you're an out-of-state buyer.
Wellen
Park Fees
West Villages Improvement District
(WVID)
Wellen Park has the West Villages Improvement District, which is an independent, special taxing district that provides the infrastructure, including community development systems, facilities, services projects, and improvements to the District. The area governed by the West Villages Improvement District is approximately 11,000 acres and includes part, but not all, of Wellen Park. The West Villages Improvement District is the only improvement district within Wellen Park. Playmore and Downtown Wellen are not "improvement districts." More information about the West Villages Improvement District is available at westvillagesid.org. The fees that are paid to the West Villages Improvement District, are part of your yearly property taxes and are added to your taxes as a line item in your Non-Ad Valorem Taxes.
What Are The Homeowners' Association Fees In Wellen Park?
In Wellen Park, each of the 14 neighborhoods will have its own HOA fees, and they will vary depending on the specific neighborhood your home is in, along with the home style you've selected within the specific community. The monthly or quarterly HOA Fee, whichever their payment schedule may be and what's covered in those fees will also vary by neighborhood. The HOA fees typically cover neighborhood amenities, maintenance of common areas, and landscaping. You can find a range of HOA's for each community on our Neighborhood Overview document; however, you should consult a real estate sales team for specific/accurate fees.
Wellen Park
Lifestyle
What It's Like To Live In A Master-Planned Community?
The vision for Wellen Park was to take the unique setting of the land change it into a place with a truly exceptional quality of living, while still preserving the area's natural beauty. By incorporating elements of "Smart Growth," Wellen Park provides its residents with employment opportunities, shopping, schools, recreation, and beautiful homes - everything needed for an exceptional quality of life. The Wellen Park Lifestyle encompasses a warm sense of community complete with amazing amenities, such as trails, parks, recreation, retail stores, restaurants, and one-of-a-kind events.
What Amenities Are There In Each Neighborhood/Community?
Each neighborhood in Wellen Park has its own separate amenities, some of the amenities for its residents to enjoy include pickleball & tennis courts, resort-style pools, fitness centers, dog parks, children's playgrounds, and billiard rooms to name a few. A full list of amenities for each neighborhood can be found here Neighborhood Overview document.
What Kind Of Trails Are In Wellen Park?
Wellen Park will have an extensive network of trails for its residents to enjoy. Currently, Wellen Park has more than 18 miles of trails throughout the community already, and they plan to add more, as more of the community is built out. Click Here To See The Current Wellen Park Trail Map.
What School District is Wellen Park In?
Wellen Park is located in Sarasota County School District, which has some of the best schools in the area, Sarasota County School District is an A-rated school district, Also, there are a number of additional educational options as well.
What Healthcare Options Are Available?
Wellen Park offers a number of healthcare providers nearby, some of them include Venice Regional Bayfront Health, Englewood Community Hospital, and Sarasota Memorial Hospital.
Does Wellen Park Have Any Golf Course Communities?
Yes, there are currently two communities in Wellen Park that offer golf, they are Boca Royale and Sarasota National, both offer 18-hole championship courses. However, there are plans to add a 3rd golf community, with a tentative start date of construction in the Winter of 2021, This new community will be called Wellen Park Golf & Country Club, and will be built by the national builder Lennar.
Wellen Park Shopping, Dining & Entertainment
What is Downtown Wellen?
Designed to be a vibrant mixed-use development area, Downtown Wellen will serve as the go-to place for residents to shop, dine and enjoy entertainment. Downtown Wellen will include an 80-acre activity lake, called Grand Lake, multiple restaurants, retail stores, a food truck park, splash pad and children's play area, along with an area for events and concerts. The anticipated opening date for Downtown Wellen will be sometime in 2022.
What Is The West Villages Marketplace?
The West Villages Marketplace is on the corner of U.S. 41 and West Villages Parkway, the West Villages Marketplace is anchored by Publix, which is a Florida-based grocery store, the shopping plaza also includes a mix of restaurants, shops, and services.
What is
CoolToday
Park?
CoolToday Park is the spring training complex for the Atlanta Braves, who have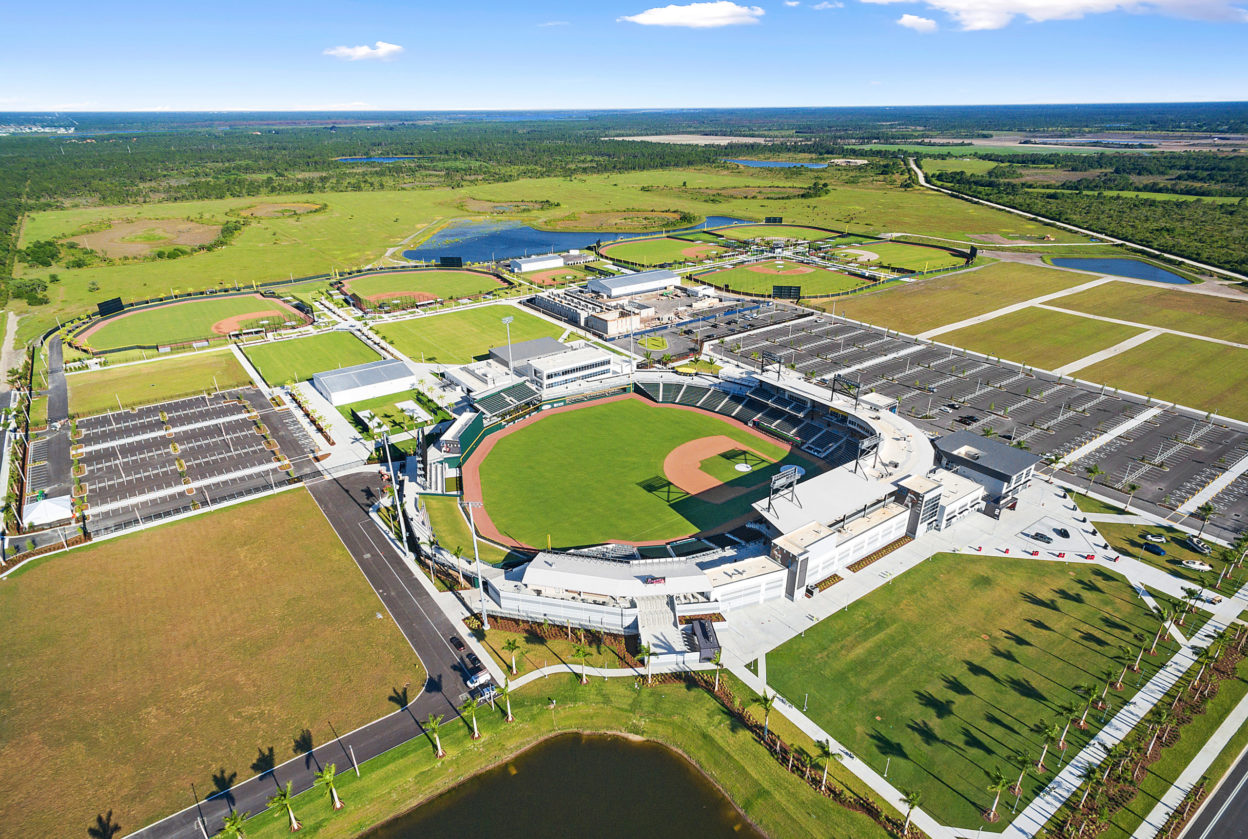 committed to a 30-year lease. CoolToday Park opened on March 24, 2019, and cost an estimated $140 million, the ballpark features 6,200 fixed seats, and can accommodate up to 8,000 people when you include the berm and standing room. CoolToday Park has year-round activities hosted by the Braves which include special events, concerts, festivals, and more. For more information visit CoolToday Park's website
---
About the author: The above Real Estate information on The Process Of Selling Your Florida Home was provided by Dan Larson, a recognized leader in his field. Dan can be reached via email at team@larsonsold.com or by phone at 941-993-8222. Dan and his team The Larson Team have helped people move in and out of many Southwest Florida towns over the years.
Are you thinking of selling your Southwest Florida home? The Larson Team has a passion for Real Estate and would love to share their marketing expertise!
We service Real Estate Sales in the following Southwest Florida towns: Anna Maria Island, Bradenton, Boca Grande, Englewood, Casey Key, Englewood, Holmes Beach, Lakewood Ranch, Longboat Key, Manasota Key, North Port, Nokomis, Osprey, Placida, Port Charlotte, Punta Gorda, Rotonda West, Sarasota, Siesta Key, Venice, and Wellen Park, FL